Benefits
Enjoy these benefits when you use SMURPS Sales and Delivery module.

Organized Sales Information
From customer data collection to order fulfilment tracking, stay organized with standardized business processes that help reduce discrepancies or duplication in your sales information. Focus on selling rather than repetitious tasks.

Sell On The Go
Be business-ready wherever you go. Quote your customers and close deals on the fly with any mobile device.

Interdepartmental Collaboration
Consistent data stored in a single repository encourages interdepartmental collaboration. Sales trends can be taken into account for purchasing decisions. Production and logistical arrangements are driven by planned delivery dates.
Customer Management
Keep a database of all your customers and group them by sales territories and market segments. Store key customer information such as contact details, billing currency, credit limit, and payment terms. Assign multiple addresses to a single customer.
Sales Pricing
Maintain standard selling rates for different price lists in multiple currencies. Use pricing rules to apply discounts automatically when certain conditions are met within a pre-set validity period.
Product Bundle
Sell products in bundles with pre-set packaged prices.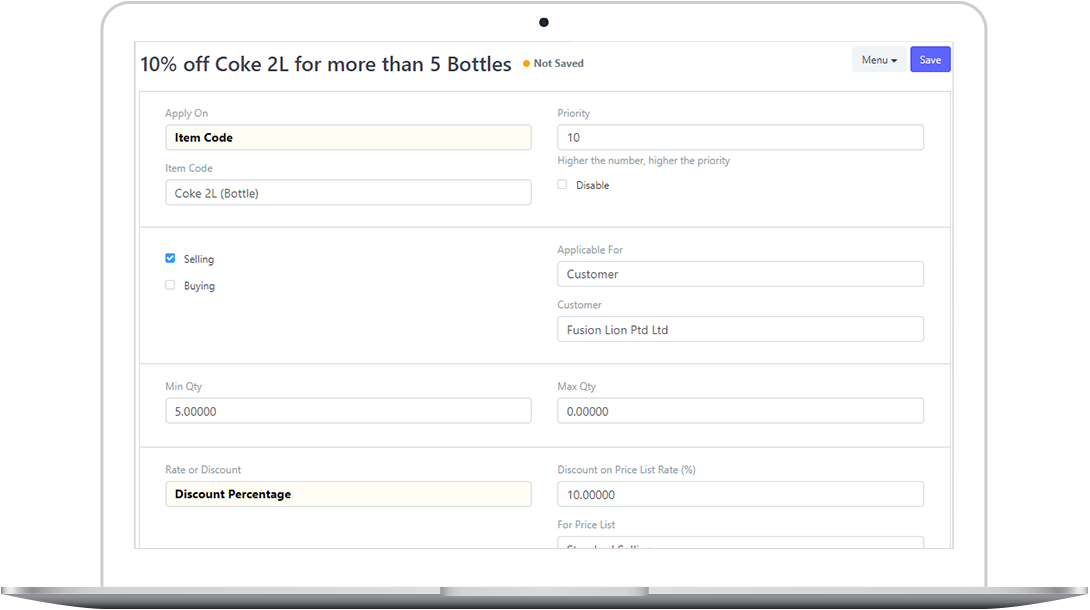 Order Management and Fulfilment
Demand Management
Respond quickly to customer's requests for quotations with in-built pricing control, terms of engagement, and validity period. Convert Quotations to Sales Orders easily.
Sales Workflow
Build multi-level approval workflows to enforce business policies and ensure that all orders have been processed correctly.
Delivery Processing
Make a Delivery Note against the Sales Order once the goods are ready for shipping. Keep tabs on outstanding orders that are pending for delivery.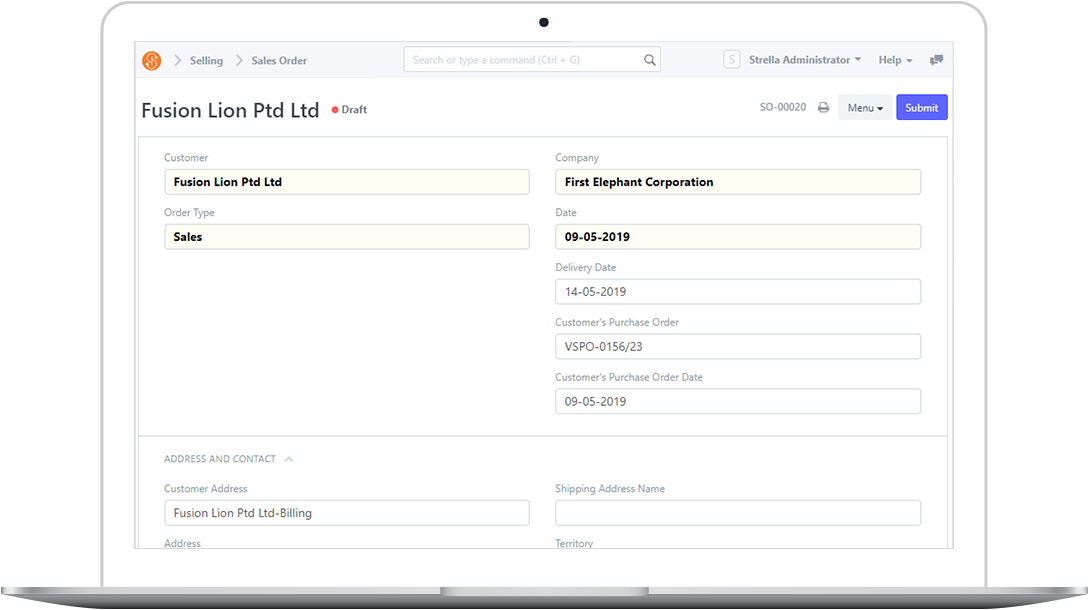 Sales and Delivery Performance
Salespeople Management
Drive sales with proper management of your salespeople. Track total contribution from each salesperson.
Sales Analytics
Assess sales performance and the effectiveness of sales campaigns. Identify sales trends as a basis to develop realistic sales forecasts.
On-Time In-Full
Measure delivery performance in your supply chain with custom-build OTIF reports and dashboards.