Benefits
Enjoy these benefits when you use SMURPS Procurement Management.

Standardized Buying
Create more process efficiency and conform to company procurement standards with standardized workflows and streamlined data processes.

Better Spend Visibility
Manage risk by improving spending visibility. See which departments are ordering the most goods and find cost reduction opportunities.

Global Procurement
Source from different countries around the globe with various language and currency options.
Supplier Management
Keep a database of all your suppliers and group them by product line. Store key supplier information such as contact details, billing currency, credit limit, and payment terms. Assign multiple addresses to a single supplier.
Purchase Pricing
Maintain standard buying rates for different price lists in multiple currencies. Use pricing rules to apply discounts automatically when certain conditions are met within a pre-set validity period.
Supplier Product Code
Maintain supplier product code in the item record and fetch this information during purchase transaction processing.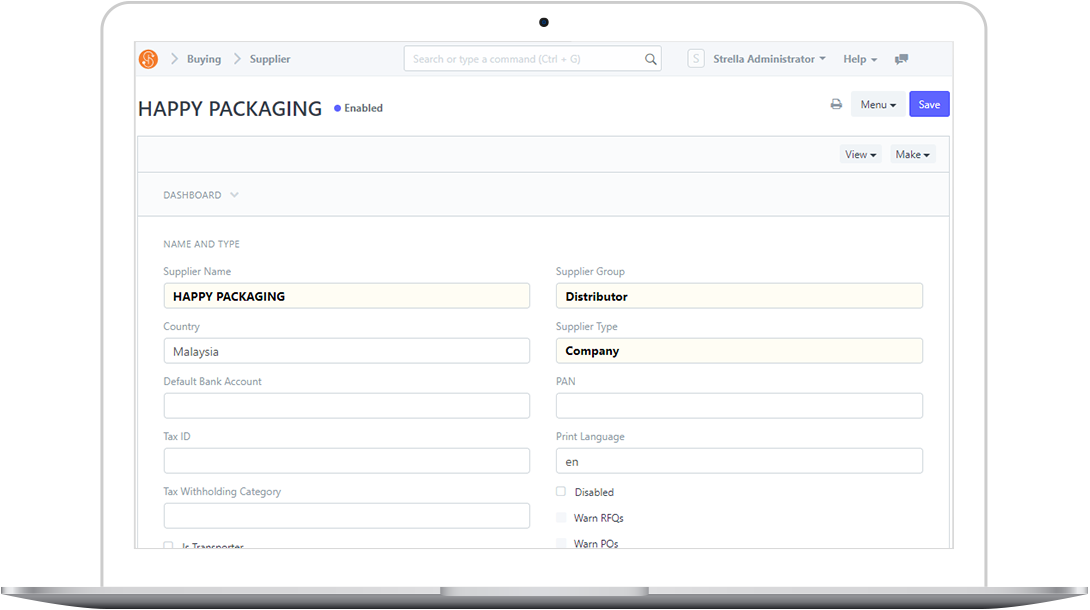 Request and Evaluate
Request quotations from suppliers with standard email templates. Setup criteria and scoring sheets to assess the performance of each supplier.
Buying
Convert RFQs or Material Requests to Supplier Quotations and Purchase Orders easily with in-built pricing control.
Procurement Workflow
Build multi-level approval workflows to enforce business policies and ensure that all orders have been processed correctly.
Purchase Receipt Processing
Make a Purchase Receipt against the Purchase Order. Keep tabs on outstanding orders that are pending for shipment.
Purchase Analytics
Analyze purchase trends by different procurement categories. Make better business with actionable information.